A while back, I needed to reach an acquaintance who worked in a local branch of one of the national banks. When I looked for the local number in the phone book, all I found was a toll-free number that connected me to a computer answering system. That's right – a local business didn't publish a local number in the phone book, and here's the stupid part: The answering system didn't offer an option to connect to any branch or person.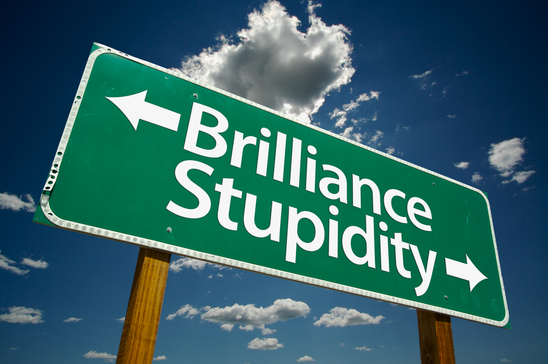 From this one encounter stemmed a powerful story and four equally powerful lessons I thought worth sharing to big and small businesses out there.
Lesson 1 – Don't create barriers to customers and prospects.
If you have any, take them down NOW! I know you think you don't, but in the name of efficiency and the advent of new technology, you might.
Undaunted, I called a local board member of that bank who gave me the local number (yes, they had one). When I called, I was told that my acquaintance, a loan officer, had recently been laid off.
"Why was he laid off?" I asked. Since the bank was losing money and, for the sake of the stock price the CEO needed to impress the stock analysts with his guidance on the next quarterly conference call. So an edict came down that almost 2,000 employees across the company would have to hit the bricks. Never mind how valuable they were, or what such cuts would ultimately do to the bank's long-term ability to compete, "We've got to cut costs and the quickest way is to cut payroll."
Lesson 2 – Quarterly goals are important for planning.
For a publicly traded company, quarterly guidance to stock analysts is a counter-intuitive and dangerous practice for long-term success. Small businesses have to remember that customers don't buy based on quarterly schedules, so don't let your quarterly pressure on sales people cost you lost business and, worse, lost relationships.
I learned later that even though my acquaintance was the top loan producer, he was the last one hired, and also the first to go. Now he's no longer a payroll drain on this bank, but he is now kicking the backside of his former employer as a high-producer with a competitor.
 Lesson 3 – In the 21st century, seniority doesn't trump productivity.
Today, this bank is one of those that had to be bailed out by the government. The bank CEO, who allowed blind devotion to stock price undermine the tried-and-true management practices of building a strong team and taking care of customers, is now no longer a drag on that bank's payroll.
How much business did this bank lose because of that phone answering strategy? What would have happened if this bank CEO had simply installed an answering system that made sure anyone who wanted to call a local branch could not only find that number easily, but quickly connect to a local person? The answer might be that the CEO would still have his job, and so would my friend and several hundred other former employees. Who knows? By simply adopting a customer-friendly phone system, this bank might have actually needed to hire more employees to handle all of the new business.
Lesson 4 –  If you need more sales revenue, make sure your organization's people, systems, and policies aren't getting in the way
Recently, on my small business radio program The Small Business Advocate Show I talked about the potential dangers of quarterly policies with sales management expert and Brain Trust member, Skip Miller (m3learning.com), author of The Ultimate Sales Tool Kit. Take a few minutes to listen to what this smart guy has to say and be sure to leave your smart thoughts.