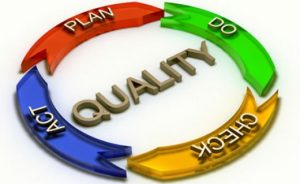 Successful customer service is the process of delivering value to customers in exchange for payment.
Surely this is the prime directive of any business. But that process isn't truly successful unless the relationship can be sustained, and only quality produces sustainability.
But what kind of quality?
"Quality service" is a 20th century term that businesses use to declare a commitment to diligent customer support. But customers typically associate it with, and businesses too often tolerate it as promptly addressing a problem. Unfortunately, here's what quality service often sounds like:
"We're sorry we delivered the wrong size part. But we're committed to quality service, so one of our trucks will be there in an hour with the correct part."
It's true. Sometimes quality service like that impresses the customer – and businesses even like to brag about delivering it. But while prompt attention is admirable, it's not optimal because it has a negative impact on sustainability in at least two ways:
The customer was inconvenienced by inaccurate service – you screwed up!
Allowing an avoidable problem to occur is the worst kind of profit-eating inefficiency.
In the 21st century, successful small businesses have converted their problem-fixing "quality service" to the profitable and sustainable "quality process."
Put simply, executing a quality process is serving customers correctly the first time. Accomplishing a quality process ranges from the very basic, accurate order filling, to the more complex, integrating into your operation only those vendors that share your quality process commitment. It shouldn't be breaking news that your large business customers have been doing this for a couple of decades, to eliminate weak links in their supply chain.
The optimal goal of your quality process is sustainable customer relationships. That means 1) you did it right the first time; and 2) you made a profit and didn't squander any of it on mistakes. Such sustainability is in evidence when customers return to find your profitable business still there, ready to serve them again with your quality process.
So why would anyone live with profit-eating quality service instead of managing with a quality process? Because cash is a drama queen and profit isn't.
Delivering quality service is practiced by crisis managers. The crisis comes when you could lose a sale – possibly even a customer – because an order was filled incorrectly, creating a hit to your cash flow so quickly and dramatically that it takes your breath away: "OMG, get out there right now and fix this!"  Lots of drama for everyone.
Having a quality process is a commitment to profitability, requiring disciplined, long-view professional management. You'll recognize it by the sound of no drama experienced by you or your customers … crickets.
Professional small business CEOs know that focusing on a quality process – doing it right the first time – takes a commitment to quality hiring, efficiency training, and a focus on what customers want, not just what they need. These practices produce sustained profitability and, in time, will eliminate your noisy cash flow drama.
Remember, the quality service you've been so proud of may seem admirable, but when delivered in response to something that was avoidable, it assaults profitability, threatens sustainability and ultimately will put you out of business.
Write this on a rock … Convert quality service into the more profitable – and sustainable – quality process.