Jim Blasingame is recognized as one of the world's leading experts on small business and entrepreneurship. He is the creator and award-winning host of the syndicated radio program, The Small Business Advocate Show, syndicated columnist and author of Small Business is Like a Bunch of Bananas and Three Minutes to Success.
Jim conducts over 1,000 live interviews annually with his Brain Trust, the world's largest community of small business experts, policy makers, and entrepreneurs. Jim reaches a national radio audience, plus worldwide listeners, on his Internet simulcast and the 2600 podcasts produced annually from the radio show (www.SmallBusinessAdvocate.com).
Jim has been a syndicated columnist since 1999, contributing weekly to newspapers and online publications, including Forbes.com, Nasdaq.com, American City Business Journals, and OPENForum.com. He has published The Small Business Advocate NEWSLETTER every Sunday since November 14, 1999 without missing an edition.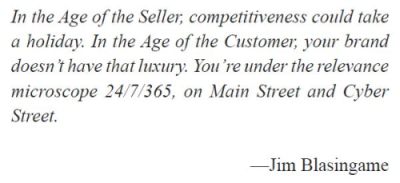 He is the author of two other books, Small Business Is Like a Bunch of Bananas (2002) and Three Minutes to Success (2006), which have sold almost 100,000 copies combined.
Jim's third book, The Age of the Customer® (2014), is being released with 30,000 presale copies. His fourth book, Technology–As if Humanity Matters™, will be published in 2015, and his fifth book, The Third Ingredient™, will be released in 2016.
In 2009, the American Chamber of Commerce Executives presented Jim with the coveted Champion of the Chamber Award.
The New York Enterprise Report honored Jim with their 2009 Small Business Advocate Award.
The Association of Small Business Development Centers recognized Jim with the 2008 Champion of Small Business Development Award.
The U.S. Small Business Administration recognized Jim as the 2002 Small Business Journalist of the Year.
TALKERS magazine recognized Jim as one of the most important talk show hosts in America.
FORTUNE Small Business magazine recognized Jim as one of the 30 most influential small business experts in the United States.
As a high-energy keynote speaker, Jim talks to small business audiences about how to compete in the Age of the Customer, and he teaches large companies how to speak small business as a second language.
When He's Not Working
Jim is a Rotarian (past president), an ardent supporter of Chambers of Commerce (member of his own Chamber since 1977 and past board member), and he has taught an adult Sunday School class for more than 25 years.
His greatest successes are: daughter, Jenny, who is a Registered Nurse (charge nurse in a CCU) and the mother of two of his grandsons, Jacob and Aaron; son, Craig, who is a police sergeant (SWAT leader, ex-Marine with two tours in Iraq) and the father of two more grandsons, Daniel and Ethan. Jim takes "obnoxious grandfather" to a new level.
Jim wore the uniform of the U.S. Army for 15 years before he resigned his commission at the rank of captain, having commanded an airborne unit for three years in the Reserves. Jim is a licensed pilot with instrument and multi-engine ratings. He owns a set of golf clubs, plays the guitar for his own amazement, and is a wine enthusiast and aspiring gourmet chef.