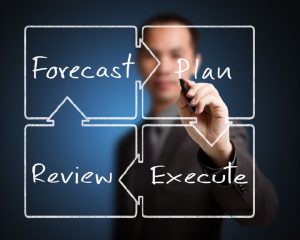 Every small business owner should display in a prominent place this John F. Kennedy quote: "Change is the law of life, and those who look only to the past or present are certain to miss the future."
As the CEO, you're the futurist of your business, and the product of a futurist's work is foresight.
Professional futurists are neither inspired by God, clairvoyant, nor have ESP. But they do look at the world differently than the average person. They typically see things before others do, largely because their focus is influenced by the following factors:
Extreme curiosity: This isn't first by accident. Curiosity is to foresight what oxygen is to life.
Orders of implication: Futurists imagine the impact of multiple possibilities from a single scenario that hasn't happened yet.
Collaboration: Futurists study the work of other futurists, work together, and welcome peer reviews.
Foresight tools: Some resources are sophisticated, some not so much.
As you can see, there's nothing supernatural about these. Nothing you don't already have or can't acquire, at least at the level of CEO futurist. Let me lower the intimidation factor and make foresight easier with CEO foresight tools. You'll recognize the first two:
Curiosity: The only person who's more curious than a futurist is an entrepreneur. Curiosity is your most powerful tool-unleash it.
Watch for implications: When you see something new – a thing, idea or a development – unfocus your eyes and imagine the short and long-term implications. Play the "what if" game with your team.
Read: Professional futurists call it scanning. Read everything you can get your hands on about your universe and your customers' universes. Start connecting dots.
Pay attention: This is the first cousin of curiosity. You pay attention to your business every day. Now add what's outside your four walls to your scan.
Experience: Never underestimate the foresight value of past successes and failures, especially to the implications element.
Peer relationships: This includes CEO roundtables, whether formal or informal, but also attending industry events to listen to and compare notes with other CEO futurists.
Intuition: This is the love child of experience and curiosity. You have intuition, plus experts say you can grow it. Intuition is educated by experience and employed by curiosity.
These CEO foresight tools will help you track trends for opportunities and disruptions in areas such as: demographics, customer behavior, society, production/supply, politics, technology, and global events impacting large customers.
With tomorrow, next year and the next decade in mind, use questions like these to include your stakeholders in the foresight process: What will my industry look like? What will my market look like? What will happen to my existing customers? What will my new customer profile look like? What will be their expectations? What kinds of products and services should we sell?  How will we capitalize growth? What kind of technology will I need? What will be the greatest opportunities? What will be the greatest disruptions?
Use the tools, ask the questions, uncover and prepare for the possibilities that will allow you to take advantage of opportunities and minimize disruptions. Leading change as the CEO means applying the foresight tools of a futurist in order to avoid surprises. All surprises.
Even if a surprise turns out okay, you still shouldn't celebrate. In fact, you should be just as frightened as if it turned out badly. Because it got through your foresight filters unnoticed until it manifested in front of you. That means a bad surprise could do the same thing.
Remember Blasingame's Law of Surprises: Surprises are for birthdays — this is business.
Write this on a rock … "The future doesn't fit in the container of the past." Rishad Tobaccolwala