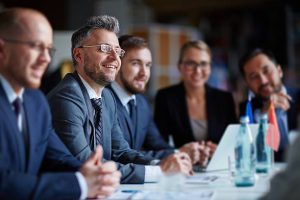 When you take a photograph, the resulting product is two-dimensional: tall, wide, and flat. But in most cases, you want the photo to actually show depth, where images in the foreground and background are all in focus.
In photographic terms, the range of focus front to back is called depth of field. The best way to expand depth of field so more of the subjects in the photo are in focus is to add light. Light contributes to depth of field.
If you were given a photo of people who were the most critical to your success, you'd easily recognize your customers in the foreground in perfect focus. But as you look deeper into the photo you'd notice the images behind that first row increasingly drop out of focus with each receding row. The reason is that for most of the history of the marketplace, businesses have gotten away with having a very narrow customer depth of field.
When the coin of the realm was to be competitive, that meant you spent all your time thinking about how to serve the person in the foreground, the first row of your business world: your customers. But as I've revealed in the past, being competitive has been trumped by being relevant. And in The Age of the Customer, perhaps the most important component of being relevant to business customers is helping them serve the most important person in their photo:  their customers.
Let me say that again with Blasingame's New Law of Customer Relevance:
If you want to have customers for life, help your customers help their customers.
The way to accomplish this is to increase the depth of field of your customer photo. Light up the view beyond the first row of customers so that the second row is completely in focus. This three-step process works every time:
1.  Identify the customer of your customer.
2.  Find out what your customer needs to do to become relevant to their customer.
3.  Whatever the answer to #2 is, help your customer do that.
Executing this approach is how you acquire customers you almost can't run off. Because when you help your customers help their customers, they know you're doing more than just delivering stuff; you've become part of their team – integrated and committed, like a true stakeholder.
And if you want to pull off the customer relevance hat trick, light up the third row of your business's photo: Help your customers help their customers help their customers.
I've done it – it's a beautiful thing.
Write this on a rock … Achieve sustainable success by bringing more customers into focus.