Crowd funding is not new, but crowdfunding is. Completely intuitive, both terms mean funds conveyed by a crowd to a solicitor.
It's largely due to those two words, innumerable and anonymous, that crowdfunding has caught on to the point where several online platforms now aggregate funds seekers with funding crowds. Now with crowdfunding, the Internet simultaneously facilitates and disrupts our experiences with what I call the Four Cs of Modern Society: Connect, Communicate, Communities and Commerce.
So far, crowdfunding fits primarily into two categories: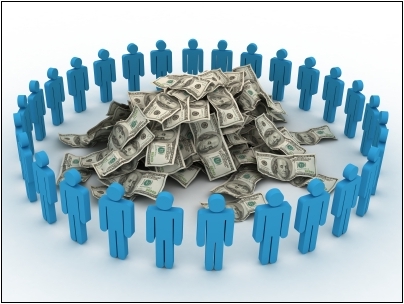 Contributions/Fundraising
This is where an emotional connection motivates members of a crowd to give to a cause, project, idea, ideal, etc.  Besides the emotional motivation, merchandise like a T-shirt or first album, for example, are likely to be involved as a token of thanks. This crowdfunding form is nothing more than donations.
Business funding
This money goes to a commercial venture, often a startup, with the expectation of receiving a first-of-its-kind product or future discount. The crowd knows the funds partially pay for the merchandise and partly capitalize the venture to which this crowd also has an emotional connection. This is business funding in the form of a commercial transaction, not investment.
Recently, crowdfunding has nudged closer to debt and equity capitalization. Peer-to-peer lending is an emerging form of crowdfunding, while the investment model still has legal and practical hurdles.
It's clear that the future of small business capitalization will look a lot different than it does today. But for most small businesses the jury is still out on how the crowdfunding options will be part of their capitalization future.
In my next column I'll use a practical approach and some tough love to reveal the challenges facing both the debt and equity sides of crowdfunding.  Ironically, those two advantages of crowdfunding mentioned earlier, innumerable and anonymous, will manifest as potential barriers as we discuss the more sophisticated forms of crowdfunding.
Write this on a rock…
Crowdfunding is just new tools to accomplish traditional fundraising and capitalization.