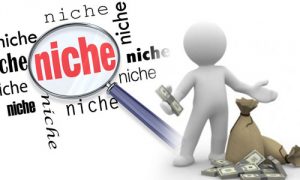 One of the things Sears Roebuck is famous for is their Craftsmen tools, especially their mechanical socket wrenches. Once, while buying one of these, I was confronted with the options of "Good," "Better," and "Best," a strategy for which Sears is also famous. Asking about the difference, I was told that the Best model had more notches, or teeth, inside the mechanism, allowing for finer adjustments when tightening a bolt or nut.
For the past 30 years, the marketplace has increasingly become like that "Best" socket wrench: every year, it acquires more notches, except in the marketplace, notches are called niches (I prefer "nitch," but some say "neesh" – tomato, tomahto). And just as more notches in a mechanical wrench allow for finer adjustments, niches create finer and more elegant ways to serve customers, which they like – a lot.
Webster (and Wikipedia) defines a niche as, "a place or position perfectly suited for the person or thing in it." If ever a concept was perfectly suited for something, it is the niche and small business. Indeed, as one small business owner creates a new niche, another is creating a niche within a niche. It's a beautiful thing.
Rebecca Boenigk is the president of Neutral Posture, Inc., a Texas company she and her mother founded in 1989. This small business manufactures REALLY comfortable and ergonomically correct office chairs. As a guest on my radio program, she told me they attribute their success to filling a niche: Their chairs aren't for everyone, just those who are willing to pay a little more for a chair that promotes the best posture at work. Many small business fortunes have been made with the Neutral Posture model of being the best-in-niche, rather than trying to conquer the world.
The mother of niches is what Adam Smith called "the division of labor," which today often manifests as outsourcing. Outsourcing is when individuals and businesses spend more time focusing on their core competencies and contract for the other stuff. For example, there are more professional lawn businesses today because folks are increasingly realizing they can earn more by sticking to their professional knitting, than it costs to hire their grass cut.
And across the marketplace, it's become an article of faith that the best way to stay on track is by outsourcing non-core tasks to a contractor – often operating in a niche – whose core competency is that task. I've long said that the best thing that ever happened to small business – after the personal computer – is outsourcing, because it manufactures niches, which are pretty much the domain of small business.
As niches have increased in number, so have entrepreneurial opportunities, resulting in the most dramatic expansion of the small business sector in history. It's difficult to say which one is the egg and which is the chicken: Have entrepreneurs taken advantage of niche opportunities presented to them, or have they carved out niches while pushing the envelope of an industry? The answer is not either/or, it's both/and.
In the future, there won't be more mass marketing, mass media or mass distribution, but there will be more niches – lots of new niches. Even niches of niches. And that's good news, because more niches means a healthier small business sector, which I happen to believe is good for the world.
Write this on a rock … Most small businesses will find more success by creating and serving niches.